Abel Nightroad
Talk

0
174pages on
this wiki
Abel Nightroad (アベル・ナイトロード) is the main protagonist in the series Trinity Blood. He is Crusnik 02, and one of the three surviving Crusniks after the war. He is a member of the AX division of the Vatican ministry of foreign affairs, and is referred to by his codename, "Crusnik".
Appearance
Edit
Abel has long silvery hair, tied up by a black ribbon. He also has blue-gray eyes, and wears small, gray, round glasses with a double bridge. He wears a black priest robe with embroidered crosses and white gloves. He also has two black belts around his hips under the coat. While in Crusnik form, Abel's eyes turn red and a pair of fangs poke between his lips which turn black. He also has a pair of black wings and a red scythe created from his blood: which is stronger than steel and harder than diamond. The wings allow him to fly in the sky and have the ability to generate electricity.
Personality
Edit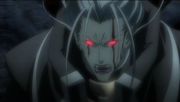 Abel appears as a clumsy, silly man, completely unfit for his job. He is capable of becoming very serious, especially when confronted with treacherous situations. He also frequently fakes a smile or brushes off comments that he does not want to answer.
The more that Abel activates his Crusnik nanomachines, the more he seems to drift away from himself, referring of himself as we instead of I (especially in the manga. In the anime he generally appears to have more control, although he is very detached from his surroundings at 80% capacity). His Crusnik form also portrays an alarming thirst for blood and destruction. It is also mentioned that when in Crusnik form at 80% Abel has enough power to completly destroy Rome.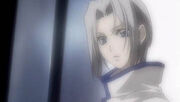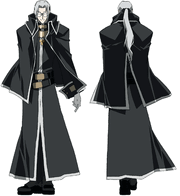 Abel bears a great grief in his heart. Originally a terran-hater because of their roles in their creation and experimentation, he later reconsidered his views due to the woman (and fellow Crusnik) Lilith. Lilith's role is unclear, in the novels it is implied by Abel's sister that she was his love, but in the anime she seems to be more of a mother figure. After Cain killed Lilith, Abel and Seth forced Cain into an airlock and cropped him all the way from outer space into the Earth's atmosphere, Abel then mourned her death for over nine hundred years deep within the catacombs. Later he saves the future Duchess of Milan from vampire attack and states his promise to protect humans to her, apparently in order to repent his sins.
Abel's identity is greatly obscured in mystery. However, it appears to have changed greatly during what happened nine hundred years ago following Armageddon. At first Abel was rough, probably even cruel (or murderous), and angry with Earth residents (who were suffering consequences of World War III) who had apparently perpetrated some wrong against either the mars settlers or the Crusniks in particular. In the Istvan arc of the manga, the hologram of Lilith states of him that "you loved... and believed... and yet you thought you were betrayed." She further states that he couldn't endure this, because of how much he cared, and so turned against it all.
Although we don't know exactly what he did, his actions are still legendary (in the manga Dietrich said that he had been called "a god of slaughter", "god of carnage", and even a "god of destruction." He is also called several times by Cain his older twin the "Angel of Destruction" and the "enemy of the world" or Contra Mundi.

When he is made known in the 'current' time of Trinity Blood, Abel is a very different person. He counts both 'methuselah' and 'terran' as human, and works within the AX both to protect and foster peace between the two races. He obviously takes innocent death of either kind very hard. This is particularly evident in the manga, although in the anime he is slanted as being more sympathetic towards terrans: despite his ease of relationships with Astharoshe and other methuselah during the empire arc, the prolonged and unmourned death of the vampire who hijacks the airship in the anime's first episode contrasts strangely with his inability to even attack Isaak von Kampfer later in the series, apparently, according to Isaak himself, because he couldn't bring himself to attack a human. These encounters to not appear in the manga, which takes a slightly different tone.
Abel's compassionate nature leads him to the inability to forgive himself for his past atrocities. He refers to himself many times as a 'sinner' and a 'monster'. He does not argue with other characters description of himself as such, rather (as in the case of the first volume of manga) he is more likely to agree with them. This is the given reason for his refusal to return to the empire at Seth's side in rulership. Along with the fact that he had just found out that Cain was still alive. It also leads to what appears to be a deep depression at several points.
During the Istvan arc of the manga for example, Abel completely gives up when he realises he cannot stop the Iblis from reaching Carthage, although in his confidence of his ability to do so (and no doubt partially to prevent others from a glimpse into his tortured past), he had entered the underground passage alone. ("Every single soul will die. And... I'll be... the one who killed them.")
The death blow in this instance appears to be his realisation that the programming preventing him access to the Iblis was specifically created for him and, ironically, would prevent him from saving the threatened humans in an effort to prove that he deep down cared about them enough to do so.
At this point, Abel simply refuses to fight a threatened death in his own despair.
As a curious insight into his character, he also thinks at the time "Oh well, this way... I won't have to fear the humans anymore."
Although it is verified at other times that he fears himself, and he fears the damage he could do to others, it is the first, and possibly the only, time he gives indication of being afraid of all other humans.
Why is unclear, but possibly it is a remnant of his treatment as a 'test tube baby'? Or even from the incident of 'betrayal' that turned him into the Contra Mundi in the first place? It has been mentioned several times that when he was younger Abel had a violent temper mostly towards humans and scientists who performed the experiments. Coincidentally said scientists were also human.
Relationships
Edit
Abel's relationship with Esther is somewhat unclear. He cares about her and is willing to protect her at all costs, even to the point of letting go of his humanity. For instance, when he thought Esther was dead, he lost control and changed into his 80% Crusnik form out of revenge. He was only able to return to rationality when Esther pleaded for him to cease his rampage. His own friends and colleagues have noted on occasion that Abel may be oblivious to the deeper feelings he harbors for Esther.
On the other hand, Esther seems to be more open about her romantic feelings for Abel. She wants to learn more about Abel and agrees to join him at the Ministry of Holy Affairs.
It seems that when Abel was younger he was in a relationship with a fellow Crusnik, a woman named Lilith, the Crusnik 04. Their relationship has been seen through three different ways: one of lovers, one similar to the relationship between a mother and her son, and one among siblings. All that's known for sure is that when Cain, his brother, "removed the negative element" by killing Lilith and then showing Abel her head, his reaction was very violent. In both the anime and manga it is clearly stated that Abel and Seth dropped Cain into the atmosphere.
Since then Abel, spent many centuries mourning Lilith and recently in the manga/light novels is very determined to kill Cain once and for all.

Calpa Perrenis Aelito Ora Tuor Nominares
United Nation Aerospace Force Lt. Colonel Abel Nightroad attached to Red Mars Program management security devision recognize by UNASF 94AR MOC 666 02ak
Who can say what stops one, what starts one. Is it simply that I do not wish to kill another person? Simply because I like people?
Were you... scared? ... Of course you were. Even I'm terrified of myself... So I would think you were even more appalled.
I've had enough!! Enough of this rocky smuggler's ship!! Lemmeofflemmeofflemmeoff!! Enough of my demon boss!!Ahh... I see London.. I see France. I think I see your underpa- (Receives a kick in the head from Esther)
Nothing has changed. Not in the past. Not even now. I am still a monster.
We've already reached the point of no return.
Hmmm. Maybe that's a serious problem rooted in your character development from childhood. Or a calcium deficiency?
Those napalm bombs I 'borrowed' from the zombies are pretty handy, no? Anyway, for now we should... 'FUGITE SALVATE ANIMAS VESTRAS'! ... That's what they say, you know!
Human beings eat cows and birds. Vampires suck the blood of those human beings. Then...There may be something that lives by sucking the blood of vampires out there somewhere......
This eternally cursed power. This extremly disgusting existance! May this wretched body help me protect the things most important to me now! This is the only power that makes atonement for my sins possible! Ashes to Ashes, Dust to Dust, Earth to Earth! Amen!
Dear me - how pitiful. A monster like me, lagging from such a small wound?
It's too late Lilith. All of it was too late, for both you and me.
Nanomachine Crusnik 0.2 power output 40% activate!
Abel's name comes from the bibical Abel, Adam's second son who was murdered by his brother, Cain, as well as being the bibical King of Martyrs.
Abel takes thirteen sugars lumps in his tea.
Abel never seems to have more then 4 dinars in his wallet at any given time.
He gets very seasick.
Abel did not wear glasses when he was young.