Astharoshe Asran
Personal information
Aliases:
Duchess of Odessa
Marquise of Kiev
Asthe
Residence:
Byzantium
Gender:
Female
Species:
Methuselah
Weapon(s):
Spear of Gei Borg
Affiliation(s):
New Human Empire
Other information
Novel debut:
From the Empire
Manga debut:
Straight to Hell
Anime debut:
From the Empire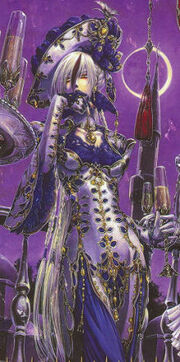 Astharoshe Asran is a Methuselah and a high noble of the New Human Empire.
Appearance
Edit
From the Empire
Edit
Empress of the Night
Edit
Her mother died a year before the events in Empress of the Night.
Ad blocker interference detected!
Wikia is a free-to-use site that makes money from advertising. We have a modified experience for viewers using ad blockers

Wikia is not accessible if you've made further modifications. Remove the custom ad blocker rule(s) and the page will load as expected.