Crusnik
Talk

0
174pages on
this wiki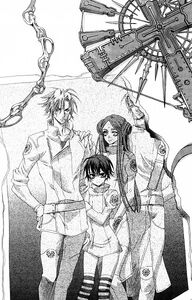 The Crusnik (クルースニク) is as they are called are vampires who feed on the blood of other vampires. They possess immense power and destructive potential and are nearly invincible. They are easily able to overwhelm even the most powerful of Methuselahs and with enough strength to raze a whole city. Their lifespan is longer than that of normal vampires. Because of this, they have gained enough experience and ability to retain a high position of power, as Commanders during the Human-Methuselah war (Armageddon) and as leaders after the war.
Whereas the Methuselahs are either born or infected, the Crusniks are unique beings created as a result of an experiment during the Mars Colonization Project "expendable goods for the Mars Colonization project", according to Abel. Cain states at one point in the anime that he and Abel have identical DNA.
The four Crusniks, Cain, Seth, Abel, and Lilith, were test tube babies created for the Mars Colonization Project by the UNASF with genetically enhanced bodies. They were infused with the Crusnik nanomachines that were found on Mars as their enhanced bodies were the only ones capable of surviving the procedure. The exact circumstances behind the infusions of Seth, Abel, and Lilith are unknown, while Cain's infusion was done by Seth to save his life after a fatal accident.
Crusniks possess unique attributes that separate them from Methuselahs. For instance, both Abel and Cain sport angelic wings and can fly quite easily. Crusniks can transmute their blood into weapons and often possess psychokinetic powers. Abel can generate powerful bio-electric fields while Cain can use psychokinetic waves to pulverize objects and enemies and to generate barriers. Seth can reduce people and objects to dust using sound waves. In order to activate his Crusnik powers, Abel usually issues a verbal or mental command to the nanomachines in his body. The exact wording and method of activation varies amongst the novels, the manga, and anime, and between the original Japanese and the English translations. For example, in the anime he says "Nanomachines: Crusnik 02 - __% Activate" while in the manga he silently activates Crusnik mode and receives a confirmation from the nanomachines of "Crusnik 02 Loading. Limitation at __%... Acknowledged".
In the anime, neither Cain nor Seth demonstrated a need to do this in order to activate their powers, and there are several times when Abel activates his powers without saying his usual command, so it appears to just be a literary device.
Crusnik 01
Edit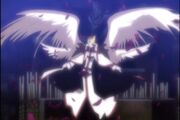 Cain: when his Crusnik powers are activated, his lips turn an effeminate red, he grows four white wings, (six as shown in the manga) his eyes become red, and a black lance materializes in his hands. This weapon is likely a reference to the Spear of Longinus, also called the Spear of Destiny, keeping in line with the many Catholic references in this anime. In this state, he can generate destructive red energy.
When not in Crusnik form, he appears to have the power to launch a destructive and invisible force from his hands, perhaps being composed of sound waves. A similar tactic may be used as his shield, as he is shown with the ability to stop bullets in midair without raising his hands. He also seems to possess super strength and speed. Among the four Crusnik siblings, he is the only one who has fused 100% with his nanomachines.
Crusnik 02
Edit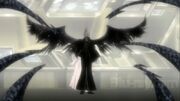 Abel: with 40% of Crusnik nanomachines activated, his eyes become red, his lips turn a dark blue, his teeth become fangs, his nails turn into claws, and a gigantic scythe made of blood materializes in his hands.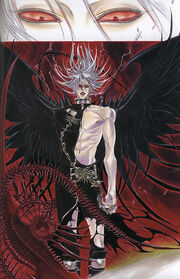 At 80%, he grows black wings and can generate massive amounts of electricity.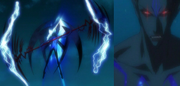 Only in the Anime version at 100%, he turns into a humanoid creature with dark skin, black bat-like wings, and blue markings that cover his entire body. He also generates more electricity than his 80% form and a second blade forms on the other end of his blood scythe.
Abel has also demonstrated what may be form of telekinesis, and can draw Methuselah blood directly into his body without using his fangs. In episode two Abel drew in blood through his shoes while being impaled by a vampire, and in episode fourteen he absorbs Ion's blood into his wings. It is possible that this presumed telekinesis is actually a result of Abel controlling the Bacillus bacteria present in Methuselah blood. On no occasion was he seen doing the same with the blood of normal human beings.
Crusnik 03
Edit
Seth: When her Crusnik powers are activated, Seth's eyes turn red, her lips turn greenish-blue, her voice becomes deeper, fairy-styled wings grow from her back and a pair of trident-like weapons made of blood materialize in each of her hands. However, upon closer inspection, her weapons could be interpreted as oversized tuning forks. In this state, she can almost instantly disintegrate her enemies. Similar to Cain, this power appears linked to the manipulation of sound waves. She calls her technique "The Flames of Sound". The youngest among the four Crusniks, from an earlier age she has shown aversion to Cain, even before he fused 100% with his nanomachines.
Crusnik 04
Edit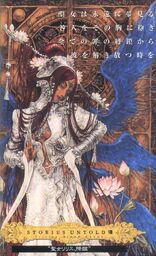 Lilith: the prototype to Cain, Abel, and Seth. Lilith is shown to have six blue wings while in 80% activation, and four white wings during 40%. She was also a powerful combatant and strategist, protecting humanity from Cain, Seth, Abel, and the Methuselah during the post-Armegeddon Human-Vampire War.
The names of three of the four known Crusniks can be found in the Bible, where Cain, Abel, and Seth are sons of Adam and Eve. The name of Lilith is not a direct biblical reference, though the sets of esoteric Christian lore,that has been shown to be false, the Pseudigrapha, which refers to her as the first wife of Adam, and/or in place of Eve.
UNASF stands for "United Nations Aero-Space Force."
The exact ages of the four Crunsiks are as follows: by the end of ROM VI, Cain and Abel are 976 years old & Seth is 966 years old. Lilith dies in 2220 AD and she was 135 years old.
"Crusnik" is Slavic for "crosser". The Krusnick/Crunick are based off of Krsnik (vampire hunter) based off of Slavic Mythology being type of vampire hunter . The origin of the name may be from the word krst, which means "cross", which would make sense since when the mars colonists found the Crusnick or Seth did. Seth named it as such do the nano-machine looking like a cross shape.
The Crusniks are also shown are their official UN's officer or military numbers and ranks they had from the time of RMP (Red Mars Project).

Cain held the rank of "Major" UN# UNASF94-8-RMOC-666-01ck during the Red Mars Project. He oversaw the whole Red Mars Project.
Abel held the rank of Lieutenant-Colonel UN#UNASF94-8-RMOC-666-02ak and was also in charge of management security division.
Seth being the youngest was genius scientist, she is the head of the Science department UN# UNASF94-8-RMOC-666-03sk and her rank is on level lower than Abel's.
Lilith held rank is a Lieutenant UN#ID UNASF94-8-RMOC-666-04ls below that of Cain, Abel and Seth. She is in charge of the department of medicine/health care in the Red Mars Project.
They also had the Untied nation Emblem shown on many of their old RMP uniforms and boots.