From the Empire is the eleventh episode of the Trinity Blood series.
In Venice, Father Abel joins a Methuselah agent from the New Human Empire, Duchess Astharoshe Asran, in a mission to capture the mass murderer, Enderle Kudza. Astha holds a personal grudge against Enderle because he had murdered her former partner; she also carries a great deal of contempt for Terran interference in Empire matters and has no desire to work with Abel. When the two locate Enderle, Astha begins an explosive fight with him that results in the deaths of many Terrans through collateral damage. Enderle escapes and Astha is rescued by Abel, who then collapses due to injuries sustained from the battle. Astha looks after Abel and reveals to him that she deeply regrets the loss of life she had caused. As Astha is about to be deported back to the Empire for her reckless actions, the two realize that Enderle is planning to kill the Pope, who is visiting Venice for a special occasion. Working together, they prevent Enderle from completing his plans and are able to get through his formidable defense system, leading to his defeat. Afterward, Astha thanks Abel for his aid and appears to have developed a more positive attitude toward him.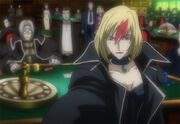 Characters
Edit
Ad blocker interference detected!
Wikia is a free-to-use site that makes money from advertising. We have a modified experience for viewers using ad blockers

Wikia is not accessible if you've made further modifications. Remove the custom ad blocker rule(s) and the page will load as expected.