Kate Scott
Personal information
Aliases:
Iron Maiden (Codename)
Residence:
Vatican
Birth:
3031 AD
Age:
33
Gender:
Female
Species:
Human
(Hologram)
Occupation:
AX Agent
Relative(s):
Iron Maiden
Team:
Caterina Sforza
Affiliation(s):
Ministry of Holy Affairs
Other information
Novel debut:
Flight Night
Manga debut:
Roselyne et les Lion
Anime debut:
Flight Night
Japanese seiyū:
Hitomi Nabatame
English V.A.:
Gwendolyn Lau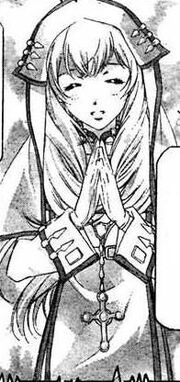 Ad blocker interference detected!
Wikia is a free-to-use site that makes money from advertising. We have a modified experience for viewers using ad blockers

Wikia is not accessible if you've made further modifications. Remove the custom ad blocker rule(s) and the page will load as expected.