Monica Argento
Talk

0
174pages on
this wiki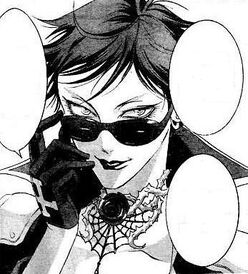 Monica Argento
as an AX-agent, Codename Black Widow, who is a witch. She is first seen in chapter 39, when she is called in to go after Esther Blanchett with Tres Iqus. She is one of the last witches left alive and doesn't like Cardinal
Caterina Sforza
. Her kind is known as shapeshifters in the Empire.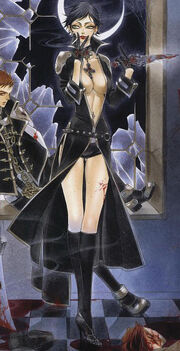 Appearance
Edit
Sister Monica has dark and short hair and she wears dark lipstick. She wears the same uniform as Abel and Tres, but she had only few buttons closed and instead of pants, she wears shorts. She also has a unique necklace, which works as as a bomb if tried to be removed with force. From that necklace hangs a cross, that reaches down to her breasts. She also has a naval jewel in a shape of a cross.
Personality
Edit
Sister Monica shows much sadism while fighting against her foes. Killing them without any mercy, not caring if they can fight back or not. She also hates Catherina Sforza, but is unable to kill her. Seeking for revenge for a comrade of hers. But she does do everything that Catherina orders her to, also taking much pride in killing.
Monica Argento is the daughter of a mafia boss, working for the AX.
Little is known about Monica before she became AX-agent, there is small flasback shown about her in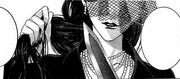 the manga. She is standing in front of a grave. Her hair is still long. She is holding her tummy asking if her unborn child went to where ever the person in the grave went. Then she swears revenge onto whoever took the dead person's life. In the next panel she is in the prison, captured after having tried to assasinate
Catherina Sforza,
who instead of killing her, takes her as one of her agents. Putting on Monica a necklace, that would explode her head if she would try to remove it by force. Also giving her her codename, Black Widow.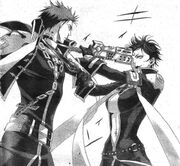 Sister Monica Argento was summoned to help out in search for Esther, after a vampire had kidnapped her. Tres Iqus being against the whole thing in the first place, but that does not change the
Cardinal
's mind about using Sister Monica on this mission. Monica makes her appearance and is ready to work. Joking about Tres being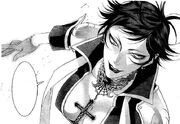 a thickhead about her, but gets serious when the
Cardinal
finally speaks to her.
Catherina
shows her the picture of Esther, the girl she is going after. Monica asks what she should if Esther were to resist her capture, if Monica should do as she sees best.
Cardinal
doesn't say anything else, except that Esther has to be stopped by all means nessecary. Even if it would mean bringing her back dead. Monica having no arguments for that, but leaves with Tres to gather information.
Tres and Monica head to a pharmacy, where they ask from the clerk if he has sold any vampire medicine recently. The clerk saying that he doesn't know what they are talking about, and presses a hidden button with his knee. Alerting some strong men to come and help him. The men tell her and Tres to leave before they get serious. Monica tells them coolly that they are the ones going to die. The men getting angry at that and try to hurt her, but are shot by Tres, making them fall to the ground. But being still alive. The clerk tells them everything that had happened and from where the vampire was from. As the two are about to leave, one fo the men throws a dagger through Monica's heart. But it passes through her. Sister Monica turns around and walks over to the man, ignoring Tres' commands to stop, she kills him.
The two make it to the hotel and stop Abel,
Petro
, Esther and
Shahra
. Esther and
Shahra
escape, while the two stay to fight. Abel fights against Tres, while
Petro
picks a fight with Monica. Who at a
good moment cuts his throath. Monica makes her way back to Tres and Abel, but is stopped by
Petro
, whose suit's oil cord she had just cut instead of his neck. It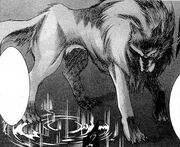 having been only oil to leak out instead of blood. The two continue their fight, when
Petro
finally corners the woman.
Petro
is about to strike the finishing blow, when it goes right through Monica.
Petro
realising that Monica is a witch, trying to strike again, when Monica just escapes using her ability to pass through things.
Monica continues after Esther and Shahra and finally catches with them, while they are driving a truk. Monica passes through the front glass and is strangling Esther. Shahra uses her weapon to damage Monica as she has melted together with the glass window. Esther and Shahra escape from Monica, who is left to lying on the ground after the car crashes. Waking up later she is confronted by Mister Butler, who states that he is a friend of Esther and Shahra. Having a huge wolf with him, who attacks Monica. The wolf easily defeats Monica, but before she is killed, Monica slips through the ground to safety.
Monica posses power to pass through things, Material penetration. She is able to pass through walls and while fighting, other's weapons pass through her. This is her power as a Witch.
"We Cosa Nostra, which before the whole Sicily was shaken up. We seem to be annihilated. To the last man."
"...That woman is the only one who I couldn't kill."
"Va'all' Inferno."