Seth Nightroad
Talk

0
174pages on
this wiki
Seth Nightroad is the youngest of the Crusniks, and also serves as the Empress of the New Human Empire under the alias Augusta Vradica. Despite having the body of a child, she is over nine-hundred years old. It is implied that she does not wish to declare war on the Vatican territories due to her brother's support of the humans. 
Appearance
Edit
In the manga, Seth appears to be about the same age as Esther, while in the anime, she is presented as much younger. In both versions, Seth is portrayed with short black hair and emerald green eyes. In the anime she wears a short green dress (green is a color only the Empress is permitted to wear), adorned with several gold and red pieces. She also wears white, ruffled shorts, white boots, and a large green hat. In both the manga and light novels she has a very diverse wardrobe, and is seen wearing several very detailed dresses and also different hats. In Crusnik form she gains a pair of fangs, her nails grow longer, and her hair hovers above her head like with other Crusniks. Unlike the other Crusniks, Seth does not have angelic wings in her form; however, it is shown in one of the original paintings that she does have wings that resemble insect wings in her Crusnik form.
Personality
Edit
Seth appears to be a happy little girl and it seems very unlikely to be the person who serves as empress of the Methuselah. She is capable of  being quite fearsome, especially when the well-being of her "children," the Methuselah, is in question. Seth is very affectionate towards her brother, Abel Nightroad, who seems dear to her.
Seth is first seen in the Andolu, the Terran side of the Metusalah Empire, looking for her squirrel Abel, where she sells tea to Esther and Ion. Seth takes the two to Mimir's medicine shop. On the way Seth tells Ion to stop him calling her a girl and tells the two her name. Ion comments that it sounds like a boy's name, asking if her parents were hoping for a boy, to which Seth replies that she already has two older brothers, so that is not probably it. While Ion jumps to the second story window with Esther, Seth smiles, commenting on how Ion has become manlier.
When Ion and
Esther
are ambushed and
Esther
goes into shock, Seth once again offers her help to them, to which Ion tells her to leave and not to touch
Esther
. Seths chuckles and asks Ion if he can afford to push her help away. She finally gets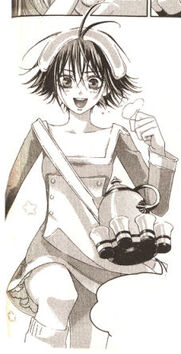 serious and tells Ion what to do while bandaging Esther's wounds, Ion being confused at how he cannot even look at her face. Ion asks her who she really is and Seth answers that she is just an ordinary girl.
Later Esther wakes up and finds herself in Seth's apartment with Ion and Seth. Seth brings some tea and food to Esther while asking how she was doing. She teases Ion by talking about how worried he was to Esther. Seth reveals that she is a medical student. Soon Esther realizes that she was speaking in Latin. Seth just smiles, saying that she figured out it already as Esther had been speaking Latin and Hungarian in her sleep. Ion tells Esther that Seth is now under the impression that Ion fell in love with Esther and brought her back to his home.
But then Ion gets more serious, telling Seth to start focusing more on her studies as it is forbidden to work a side job while hiding your identity. Seth, not caring much about what Ion told her, asks the boy to go buy some groceries for Esther, who will need nutrition while she is injured. Ion finally agrees to go, leaving the two girls alone. Seth starts to change Esther's bandages, when Esther asks Seth's real age, to which she replies is 13. Esther is amazed by how far Seth has proceeded in her studies despite her young age. Seth tells Esther something about the Empire's system so that Terran and Methuselah can coexist.
Esther is still unable to see how they coexist, and Seth tells Esther to look outside and reminds Esther that the Methuselah are not the real masters of Terrans. The real master is the leader of the New Human Empire, Augusta Vradica. Hurting a human is hurting the Empress' property. The Terrans do the Empress' bidding and are her children, therefore they and Methuselah are equal. That way they can coexist.
Esther
comments that this only possible while the Empress exists. She reasons to Seth that if th
e Empress passes away or just suddenly changes her mind, the way of coexisting disappears. Seth smiles, liking that
Esther
is smart enough to figure that out and confirms
Esther
's thoughts to be true.
There is a sudden knock on the door. Seth thinks it is Ion and opens the door, when they are suddenly attacked by the Autojager. Esther tries to make it to her shotgun, but she is knocked out. The final thing that she sees is Seth facing the Autojager.
Seth is next seen outside Astharoshe's house from where Esther follows her to Moldova's Duchess' tomb. Seth surprises Esther and tells her this time that she is a secret agent from a noble. Seth also reveals that getting close to Ion and Esther was part of her mission in investigating the situation of 'hardliners'. Esther and Seth hide as Autojagers move to Moldova's Duchess' tomb. Seth tells Esther that they will run inside after the Autojagers leave.
Inside the tomb they find dynamite, and realize that the enemy is planning to blow up the Empress and the tomb. Esther and Seth head out as Esther wants to warn the Duchess of Kiev . The Duke of Tigris appears, smiling as he learns that Astharoshe Asran was the one hiding the criminals in her home. The Autojagers also start showing up. Seth tells Esther to run while she fights their way out of the mass of enemies, using two small knives. Seth tells Esther to hurry and tell Astharoshe about this while she stays behind. Confronting the Duke of Tigris, who asks if they are from the same race when Seth is able to defeat the Autojager. Seth answers that unfortunately she doesn't belong to such an outstanding race.
The Duke of Tigris decides to dispose of Seth by using the Ring of Solomon. In the end Seth falls down the cliff to her doom.
 Seth is next seen when she interrupts the arrest of Ion, Esther and Astha. Suleyman is confused by the fact that she is still alive after the bombing of the tomb. The Empress says that she was rather flustered when she was almost killed on the Island of Beloved Children by him. The Duke of Tigris is shocked by the Empress' words.
The Duke of Tigris asks)|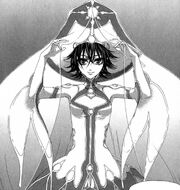 her if she actually believes the traitors, but Seth tells him that she was not talking about the bombing where she was not present. Augusta Vradica calls forth her double, the
duchess of Moldova
, 
Ion
's grandmother. The Empress reveals her plan to lure out the radicals, but admits that she is suprised that Süleyman was behind it.
The Duke of Tigris demands an answer to his question. As a reply, the Empress reveals her face. The Duke of Tigris is surprised when he sees the girl behind the veil. Seth explains to Süleyman that she was indeed scared when he pointed at her with that ring.
Everyone is suprised to see the Empress' true face. Seth tells Süleyman that she is dissapointed in him, having had high hopes for him. The Duke of Tigris gets angry at Seth, claiming that she had no hopes for any of them. Süleyman points the Ring of Solomon at Seth, preparing to fire but is killed by Astharoshe. Seth asks him why he purposely missed hitting her. The duke answers: "Is there a child who doesn't love his mother?" Süleyman falls down to his own pool of blood. Seth kneels down and pulls his head onto her lap, showing kindness towards Süleyman on his final moment.
Süleyman, the Duke of Tigris finally reveals that he hated her, having served her for 300 years. The Empress had become an existence he couldn't understand. The duke asks Seth where she came from and where they all are headed. And as a last question, he asks Seth who she is, but then recorrects his question, asking who they (Methuselah) are.
Seth tells
Süleyman
that if she could answer that, she would be much happier, but
Süleyman
dies before hearing the answer.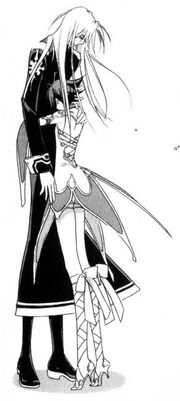 Seth stands up from the ground and congratulates everyone of their good work. Seth tells Esther that her friends call her Seth, so that she should as well. Seth asks where Abel went, Esther tells her that he went after the Baron of Luxor. Esther also informs Seth that the he is actually Dietrich from the Rozenkreuz Orden. Seth realizes that tSüleymanhey are in her room and knows what they are after.
As the battle against Dietrich gets more heated up, and everything seems to be lost, Seth showes up and says hi to Abel. Dietrich quickly realises that she is the empress Augusta Vradica. He attempts to kill her, but Seth turns into her Crusnik form. Seth uses her highly focused ultrasound energy to turn Radu's body into dust. Seth tells Dietrich that she will let him off the hook this time. But the next time they meet she would deliver his end. She tells Dietrich to run to the furthest corner of the earth as she will catch him and punish him for hurting Ion, Süleyman and Radu, her children. After the fight, Seth asks Esther if she could have a word with with Abel. She says to him that Esther is a good kid and reminds her a lot of "that woman." She kneels down and holds her hand out for her squirrel Abel, who is defensive against Seth, growling. Seth comments that she is hated again. Abel reasoned that he figured out it was her, the "empress who has ruled for over 800 years." The two finally hug with Seth calling Abel her brother.
After the fight, Seth and Abel speak alone, Seth asking Abel if he would like to stay at the empire, where they could live again as siblings, there being lots of their friends as well. But Abel makes a comment about him being just a sinner and that sinners have no right. Seth gets angry and asks Abel how many years have passed since that. Seth tells Abel that "She" has forgiven him by now. But Abel stays true to his cause, saying to Seth that he hasn't forgiven himself. Seth finally kicks Abel, calling him an idiot.
After the small conversation, Seth tells Abel that "he", 01 is still alive, also, that he has used the centuries to regerate himself, something that is not possible for Abel or her. She asks Abel what they should do now. Abel says that they will kill him.

"Hey brother... Us Crusniks... where do we come from?  And... where are we headed?"
(to Dietrich) "Next time, no matter where you've escaped to, I will force you into extinction. I will catch you. And PUNISH you. Ion... Süleyman... Even Radu... You people have done unforgivable things to these children. I will have my revenge!"
(to Abel) "No matter how you look at it, the Crusnik... it's something that doesn't belong in this world... Something foreign that collided with the Atmosphere..."
"Hey! Some Flowers?"
"Just Seth is fine, Esther. Augusta Vladica is just the name I use when I'm Empress. You are not one of the noble... You are my friend! Friends should call me Seth."
Seth's name comes from the Bibical Seth, Adam's third known son who truely began humanity.
Seth was born in Quebec, Canada.