The Star of Sorrow I. City of Blood is the third episode of the Trinity Blood series.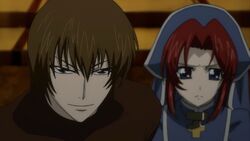 Father Abel is sent to István, a city ruled by a vampire, Count Gyula Kadar, to find the "Star of Sorrow". Upon his arrival, he meets Sister Esther Blanchett, a troubled nun of whom he learns has killed one of Kadar's lieutenants to avenge the murder of her foster mother. Under the influence of a man named Dietrich von Lohengrin, Esther plans to carry out another assassination. However, Kadar's troops arrive, kill Dietrich, capture Abel and Esther, and proceed to burn down the church in which they were in.
Characters
Edit
Ad blocker interference detected!
Wikia is a free-to-use site that makes money from advertising. We have a modified experience for viewers using ad blockers

Wikia is not accessible if you've made further modifications. Remove the custom ad blocker rule(s) and the page will load as expected.